Entry Imported from previous Blog hosting site.
Went on a day trip to the woods with the boys today, we haven't been back to these woods since the unfortunate incident back in May, well not only because of that, but as we have been pretty busy during the weekends or if we were not overly busy the weather has been awful to say the least.
When we left in a hurry back in May, we left our campsite in a state that i was not happy with, ok the the fore had been cleared away properly etc, but we had left an untidy wood pile and one of the jobs i wanted to do today was give the woods a really good clean up, the least we can do for mother nature and of course the landowner who very kindly lets us use his woodland.
As part of the tidy up, i wanted to build a proper fire wood store, so we set to building one, all of the materials used were either picked up from the forest floor, or were dead standing branches in the trees, so no damage was done to living trees, the only living plants we used was Bracken for the thatching on the roof, and this will grow back fast enough anyway.
We started building the frame work of the store from dead hazel wands, the uprights had forks so we could support a ridge pole across the front, the spars and all lashings were made with honeysuckle cordage that we made in the woods, why take cordage with you, when you can use what nature provides?.
Once the frame had been built, we placed lots of small wispy hazel branches over the frame to act as a support for the thatch, then we set to adding the thatch, to carry the bracken back to camp we used my army poncho with the sides done up, this acted as a huge bag and allowed to bring back everything we needed to finish the roof in three trips.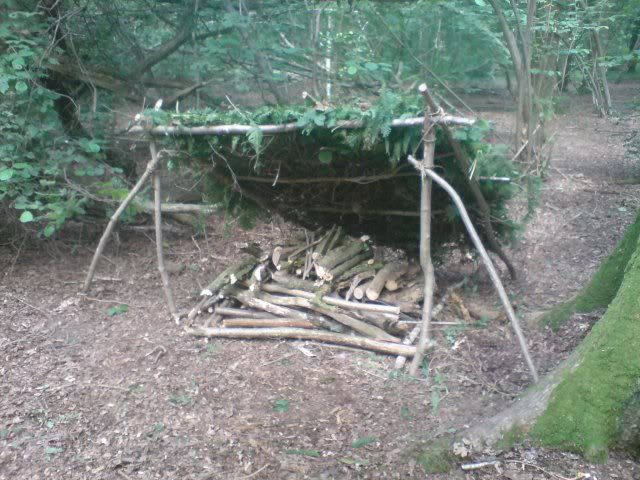 As you can see from the above photograph the wood store is finished and in use, it's a pretty sturdy structure and should serve us well for the foreseeable future, the main credit for building it has to go to youngest though, as although i made the frame, he is the one who collected, bought back and thatched the shelter with the bracken.