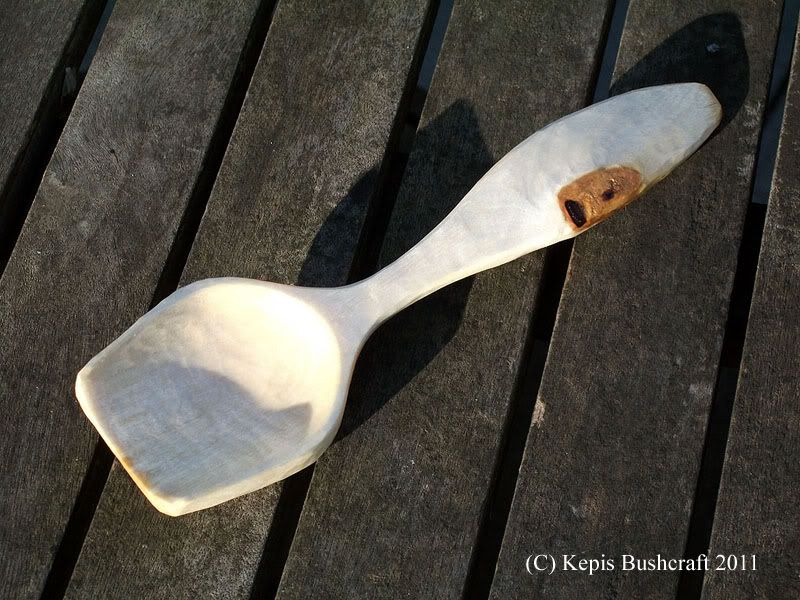 I managed to finish off a small Birch serving spoon today, i started it during last week and for one reason or another never quite got around to getting it finished.
The spoon is 7 inches long and the front of the bowl is just over 1 1/2 inches wide and is made from the other side of the small Birch log that produced the spoon in this entry from earlier this month,
http://kepisbushcraft.blogspot.com/2011/01/first-finished-one.html
, whereas the earlier spoon is an eating spoon, i elected to make this one slightly larger and to use it as a small serving spoon, it's going to be ideal for serving up all sorts of wonderful things in the kitchen, when it's finished properly that is.
You can see the handle has an inclusion in it, this wasn't apparent until i was fairly well established in the carving of this particular spoon and rather than cut it out and make a significantly smaller spoon, i decided to work around it and include it in the handle, personally i like it as it adds a bit of colour to what is basically a white spoon, not that it will stay for long i feel once it starts to get used, the inclusion should take on a nice polish with use as well.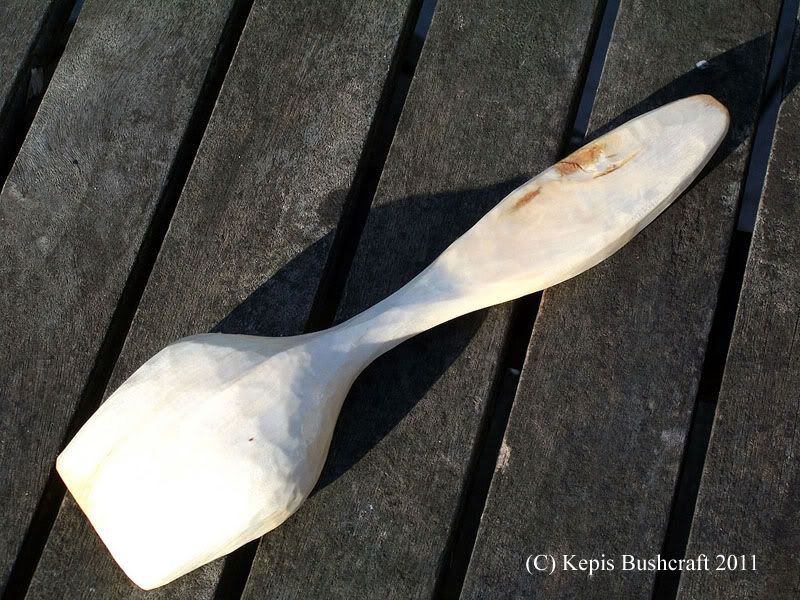 The spoon in keeping with most of my spoonage recently has a tooled/faceted finish, the bowl of the spoon has a "keel" on it as well, not only does it look nice, but it also serves a practical purpose of adding strength to the neck of the spoon and allows a thinner, more refined neck when viewed from above and below, but retains a lot of strength in the neck in the vertical plane, where it's a little thicker.
The spoon still needs a fair bit of work to be done on it, especially in the bowl where it's a little thick along the edges, it wont take long to get it where i want it, then i can start the finishing job and smoothing out all the ridges with a small detail knife to get nice clean and crisp lines over the entire spoon, the tooled finish is something i have really gotten into of late and although it takes a lot longer than sanding the spoon down, i really enjoy it, unlike sanding, where you just sand away to your hearts content, when making the finishing cuts on a spoon or indeed any carved project, you really have to think about the direction the grain follows and adjust your cuts to suit, the wood soon tells you when you have it wrong though.