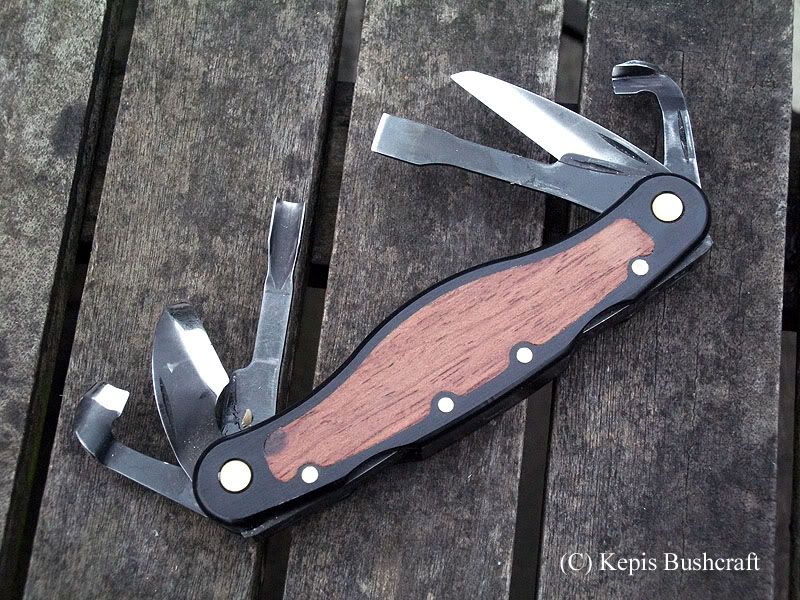 I've had one of these small pen knives come carving tools for a while now and thought it was about time i spoke a little about it as there appears to very little on the web about these great little tools.
Firstly what is a Carvin Jack?, to put it simply, it's a carving kit in your pocket, it has all the tools you could ever require for carving and whittling wood, the one notable exception that i think would make this tool even better though is a small saw, like the one you get on a Swiss Army Knife.
Above left is a picture of the Carvin' Jack, as you would expect from Flexcut, it is solid and well built, the Carvin' Jack is much bigger than most EDC pen knives, OK it's a bit heavier than your every day EDC, but for what you get, i think it's worth it, so what tools does it have on it then?
The Jack comes with a

Detail knife, Straight gouge, Hook knife, V scorp, Gouge scorp & a Straight chisel
Not bad for something that fits in your pocket, all of the blades lock into position when open as well and are scalpel sharp and keep a scary sharp edge once honed. I've used mine all over the world, from sitting up the woods on a day out doing a bit of whittling to sitting in my room in a five star hotel whilst travelling overseas on business, it's a great tool and has and continues to serve me well and as most people know, i do a lot of carving.
The Jack is supplied with a cheap and nasty leather pouch and a dedicated honing device, the honing device is actually a shaped piece of wood, but the ridges and curves exactly match the tools on the Jack, clever thinking really, the Jack also comes with a small block of Flexcut Gold honing compound.
So the good points
Tool kit in your pocket
Supplied scalpel sharp
Keeps a wicked edge
Versatility
Comfortable to use
Portable in the extreme
Well made for the main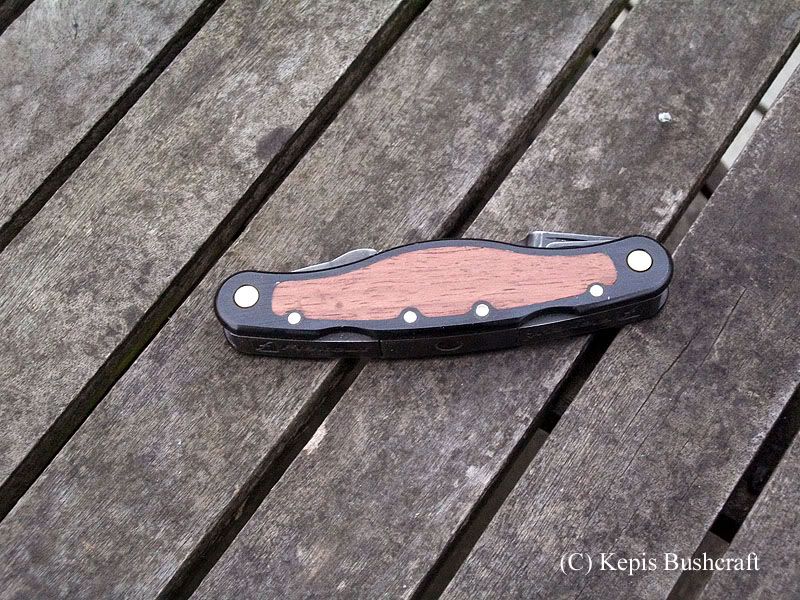 The not so good points
The price, it is hellishly expense now, you are talking in excess of £100.00 for this, it can be found a bit cheaper if you shop around and do your home work though.
The lack of a small saw, this I feel would add some further versatility to the tool.
It can become a pain to close one tool and open another all the time, especially if you are doing detail work, but that is a sacrifice I'm willing to make to have such a large number of tools in the one system.
The tools can all open at once if your not careful, i.e. you want the veiner, but as you open the veiner two other tools come up with it, this gives an increased chance of cutting yourself unless you are careful, keep the joints oiled.
Did i mention the price?.
Would i buy another one, in all honesty, yes i would, if you do a lot of carving then in my opinion this tool is worth every penny, especially if you are mobile and spend a lot of time moving around it takes up very little space but gives you so many tools to use, if you are operating from home or a fixed camp for a few days then fixed carving tools would be the better option, but for those who enjoy carving and are on the move, it's a great way to put a more or less complete carving kit in your pocket, I'm afraid though, that if you are an occasional carver, it's an expensive luxury.