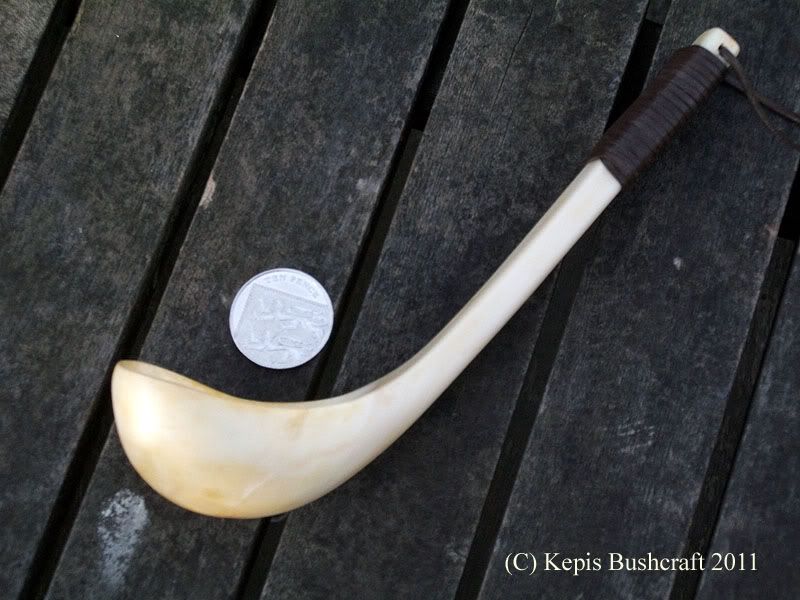 10p Piece shown for scale
This is another project i completed a while ago, a small ladle carved from a piece of fruit wood, don't ask what type of fruit wood as I'm not 100% sure, i think it's Apple, the wood came from a wood yard located just up the lane from me.
I have an agreement with the owner, that if i can carry it, i can have it, he sometimes has some good stuff there, i bagged a load of Cherry last autumn, he sometimes has Birch & Yew as well, as well as things like Acacia from time to time, it's all off cuts and what can only be considered as rubbish from his garden clearance work, all the good stuff, like big logs and such never get to the yard, but for spoons and small bowls, the off cuts do me just fine.
The Ladle was carved from a piece of wood with a natural V in it, the bowl of the Ladle is where the main trunk was and the handle is a side branch, i was petrified that the thing would split and crack as it has two pith cores in it, one smack bang in the middle of the bowl, the other towards the back of the bowl at the base of the handle, lucky for me, it hasn't split or cracked at all, the leather wrap on the handle finishes it off a treat as well i think.