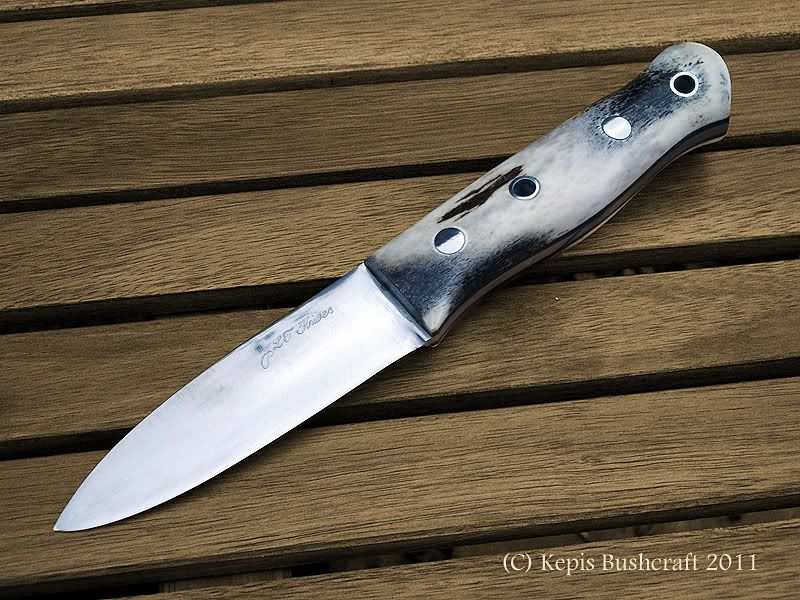 I thought this morning i would move on to a short review of another one of my users from JLT Knives, this time it's the JLT Convex Woodie.
As you will see from the photograph this is a stunning knife and a bit different to the normal Woodlore type clone you see gracing the forums.
If i remember correctly this knife came about as Adam wanted to get into making convex blades in order to expand not only his repertoire but also his knowledge of knife making, as you can see, he excelled himself with this one, on to the all important specifications ;
The specs of the knife are :
Overall Length : 9" Inches
Blade Length : 4" 1/4Inches
Blade Depth : 1" 1/8 inch at widest point
Grind : Full height convex
Blade Material : O1 Steel, Full Tang
Handle Scales : Stabilised antler, black fibre liners with nickel pins and tubes
Ive used this knife in anger, so to speak, for a good number of months now and have beaten the bejesus out of it, however, per the JLT Woodsman write up, i did clean the knife before taking the above photograph, as i think Adam would have cried had he seen the state this was in.
The knife has performed way beyond what i expected, it's chopped, sliced, carved, pryed, dressed game, basically everything you would use a knife for when out and about, i even committed sacrilege and opened a paint tin with it in the shed at home, despite lots of use and admittedly some abuse, the blade has remained true and like the Woodsman pattern i own, has only needed a strop now and again to bring the cutting edge back to shaving sharp, i feel far too many people too quick in hitting the water or diamond stones when their knife becomes dull through use, in reality all that is needed is to strop the knife and it will come back to life, i only ever take my knife to the stones when the bevel is no longer true or i have dinked the cutting edge.
Back to the knife, as you will notice in the photograph the antler scales are perfectly formed in the classic "Coke Bottle" shape and the join around the tang is flawless, sometimes with antler you get high spots, Adam has taken the time to remove all of these and even with prolonged use you do not get any sort of hot spot or hand fatigue when using the knife, even where the natural shape and texture of the antler has resulted in a low spot, these don't effect the grip or make it uncomfortable to use.
The observant amongst you will have noticed that the knife has what amounts to two lanyard holes as well as the two pins, in Adams words "the tubes allow you lash it to a stick so you can turn it into a Troll killing spear", good idea i thought, OK perhaps not for Trolls, but in times of need it would allow for a more secure lashing if you did want to turn it into a spear, personally i think it adds a little something special to the knife that is missing on some of the others you see.
The convex blade on a Woodlore style does look a bit unusual, almost too much metal, perhaps? this is only because you normally see this style of knife with a nice grind line, in reality the depth of the blade on the Convex Woodie is no bigger than a normal scandi grind Woodlore, having a slightly thicker grind has helped, as the grind is stronger than a scandi, by way of having that little bit extra metal behind the cutting the edge, sure it's thicker and many soothsayers will say a convex cant fine carve, to which i say - what absolute rot, this knife has made trap components, carves spoons of all shapes and sizes and made a Mors Kochanski Try Stick, if it can carve a Try Stick then it's suited to the task in hand, in my mind the people who say a convex blade cannot fine carve, don't use one!.
The knife produces wonderful sparks when used with a ferro rod and per the Woodsman pattern i own from Adam, the spine is square, true and sharp and the depth of the blade allows you to choke up on the blade and use various different grips without fear, it's a cracking bit of kit and one of my favourite knives, more info on Adams knives can be found via his website
www.jltknives.co.uk
.
Time to go and get it all dirty again now.