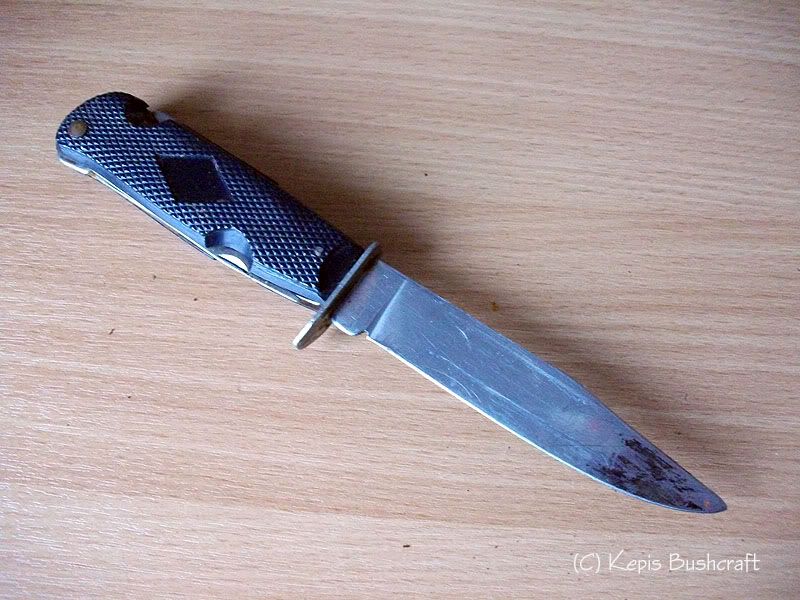 I was reading a post of the same name as this on Abo's blog this morning about the knives he used as a boy (see
here
for the original post on Belfast Bushcraft) and, well it got me thinking about the knives i used as a boy, one of them was the same as Abo has listed in his post, albeit mine was entirely in Tacticool Black, the now famous Rambo knife with a survival kit in the handle, at the time as Abo says it was the bees knees as we knew no better and had yet to fall into the "knife trap", i used to love mine and beat the living day lights out of it, sadly though it is long gone, although i think if i found another, id buy it regardless, just for the nostalgia aspect of it.
One of the other knives i used to use a lot was the one pictured, i bought it while i was on a family holiday in Italy when i was about 12 i guess, well in fact i bought two, one for me and for my best mate at the time who lived just up the road from us, i can still remember being petrified that it would get snatched at the airport when we came home. The knife is made Rostfrei and is a bit of an "all in one survival knife" wannabee, cheap plastic scales, hell even the blade feels like it's made from a mix of cheap base metals and plastic, at the time though this knife was the dogs danglies and my mate and i beat the hell out of these, we loved em, it was only when we grew up and discovered girls and alcohol that the knives fell out of use, still live and learn and the knives, well my one anyway, i think is going to get a clean up some much needed tlc.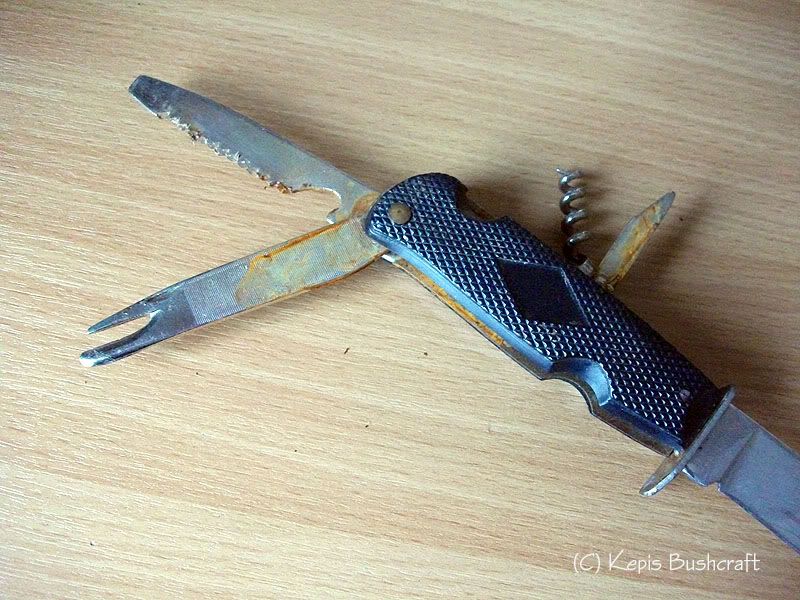 The knife is a bit of strange mix having a fixed blade, but also having a number of tools in the handle that are more akin to a slip joint, the tools included are;
A saw
Flat tip screwdriver
Bottle opener
Corkscrew
Awl
Fine File
Gut Hook
All the things a boy needs to survive in the woods at the end of the road where the scary monsters (read Farmer) live i guess, i know the knives served us really well and helped us build camps, sniper posts and tree houses and put sharp (ish) points on hundred's if not thousands of sticks and looking at the tip of this one, i guess i used it to pry something open at one stage, as i don't think knife tips are supposed to sweep like that, well not to the side anyway, so yep, i guess i owe it to this knife to show it some TLC and give it a really good clean up, show it some oil around the joints, hey you never know, i might even be tempted to try and sharpen it up and use it again to prove to the doubters and bushcraft snobs out there that knife skills lay in the hands and grey matter of the user, not in in the scales of a £300.00 bushcraft knife.