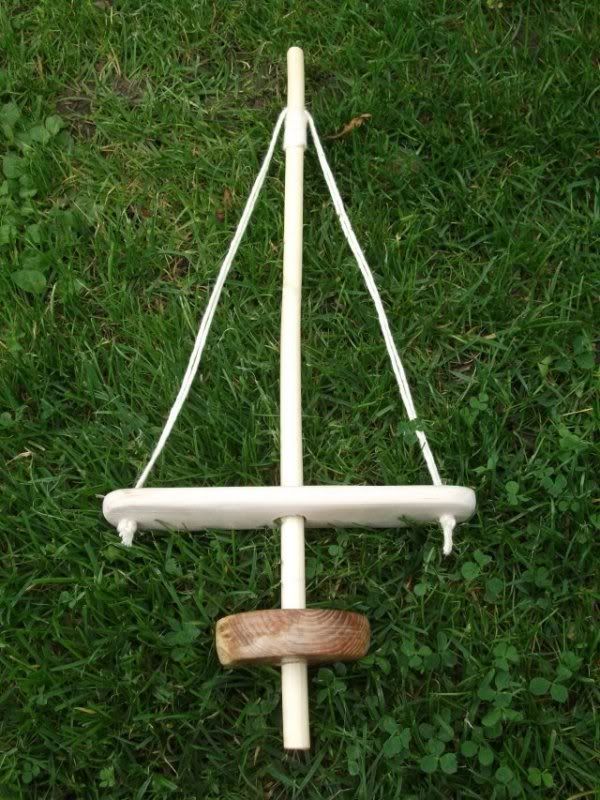 A little while ago i decided to make myself a very simple Pump Drill that i could use on some of my projects, but also as a more suitable and "in keeping" drill for when i doing demonstrations, a woods made drill just seems so much more, how can i put it, honest, than a Black & Decker.
The drill pictured has a shaft made of Elder, the counter weight is from a piece of well seasoned Ash and the plate is Hazel, the string is from Tesco's, the drill has an interchangeable chuck, which i didn't plan, but it just evolved, the end of the Elder is hollow and what i have is a couple of drill mounted in Hazel, that simply push into the end of the shaft and are held by friction only, the shaft is whipped with cordage top and bottom to prevent the wood splitting.
To use the drill, you wind the string around the shaft so the plate rises, place the drill tip on the item you want to drill and then push down on the plate, the counter weight provides enough momentum to wind the string up the shaft again, it takes a little bit of practice to get it right, but once you have the technique, it works brilliantly and works fast and at the end of the day, everything used in it's manufacture will return to nature.
I intend to make a much larger version with a much deeper drop on the push stroke and a considerably heavier counter weight so i can use the drill for friction fire, at the moment the friction between the drill end and the hearth board is greater than the energy released by the drill, so it grinds to a halt after the first down stroke, a drill with a longer shaft and heavier weight, will alleviate this, albeit the operator will also need to provide some extra effort to provide the extra energy required, but in the end the drill will carry enough momentum to create an ember for friction fire lighting, more to follow as the project progresses.