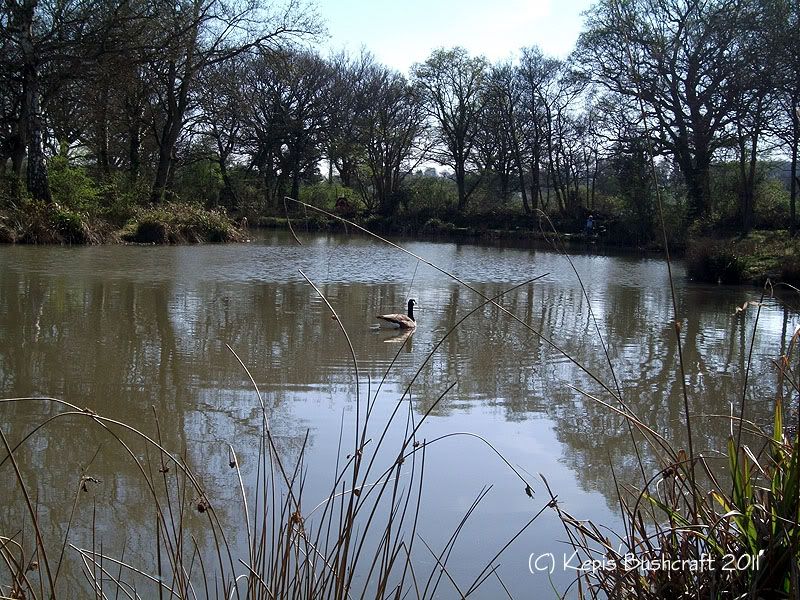 As some people know I'm the Fishery Manager at a complex of six fishing lakes, one of which is pictured to the left, we recently finished enlarging and deepening these lakes, in fact in the picture, approx where the Goose is, used to be dry land, it was a complete and utter jungle of overgrown willow and scrub, but during a period of 5-6 years, during which we spent three periods of approx three weeks at a time with 35ton diggers and dumpers of up to 40 ton at one point, digging out all bar two of the lakes at the fishery, we dug a brand new lake in an area that was pure jungle and knocked three smaller lakes into one big one.

In the times when machines were not on site we were finishing off the lake we had dug, and then getting ready for the next phase in the development by clear felling areas that were going to be dug out next, on top of this we planted, soft & hard rush, flag iris and reeds around the entire circumference of the lake that had just been dug and refilled with water, all the planting was done by hand i hasten add, in places the plants were spaced at 8 inch intervals, it was a lot of graft for sure, but also a heck of a lot of fun, we had and still have a policy of planting only native trees & shrubs and so far we have planted in excess of 500 new trees, these being, Hazel, Lime, Cherry, Alder, Birch, Weeping Willow, Spindle & Beech, thankfully some of the Alders & Birches have self seeded and now we find saplings all over the place from these species, we have 127 different native plants on site and have recorded 69 different species of birds at the fishery.
I took over last year from my mate who was the Fishery Manager and am now responsible for the upkeep and well being of the lakes amongst other things, all of the lakes are run on a catch and release system and are strictly members only, the species we stock are Carp, Tench, Bream, Roach, Rudd, Gudgeon, Perch, Crucians & Eels and this past winter I've stocked approx £6000.00 of fish, the lake pictured has had 14,000 fish stocked into to since we refilled it a couple of years back, it's a lot of responsibility, but it's also a lot of fun, and no i don't get paid a bean for doing it, i do it because i enjoy it, the whole Society is run on a voluntary basis and has been since 1919 when the Society was established, best part is, we own these lakes, so nobody can take them away from us and of course i get any timber that we fell , although we do like to stack a lot of it up to encourage Stag Beetles and the like, but i do get to keep the coppice and polarded woods as well, i look after and i do the coppice and pollarding so it stands to reason i get first dibs :-).