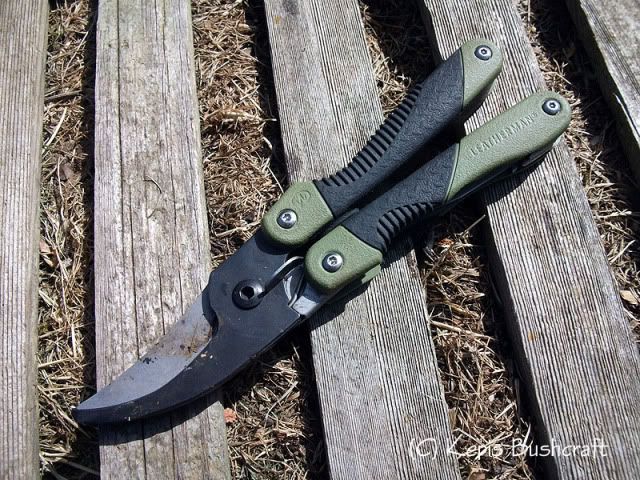 Something you don't see being used a lot by Bushcrafters are the good old Secateurs, i have no idea why this should be as they are an incredibly useful tool and allow the collection of materials from public places without scaring the crap out of the sheeple, as they don't associate these as a weapon like they would a two inch folding knife, even though you and i both know they are both tools in their own right and not weapons.
I digress, i bought these an age ago and if i remember correctly they were hellishly expensive at the time, regardless they have found a permanent place in my bag, not just my hunting bag as this was the task they were designed for originally, but i also include them in my "bimble bag" for collecting small section pieces of timber or just trimming brambles off a path, so what do they come with;


Stainless Steel Bypass Pruning Shears
420HC Stainless Steel Drop-point Combo Straight/Serrated Knife
Saw
Bottle Opener
Soft-wire Cutters
Awl with Thread Loop
Phillips Screwdriver
Flat Screwdriver
Choke Tube Adjustment Tool
Ive used these to collect "cuttings" when I've been out, in fact, i used them this afternoon to prune some overhanging Hazel branches up the lakes, right through to taking the heads and legs off of Bunnies when I've been out shooting and they have performed flawlessly every time, out of the tools that are stored in the handle, i think the saw and knife blade have seen the most use, the knife unfortunately is serrated, i personally think a plain blade would have been better, unusually for a "high end" multi tool though, the tools don't lock into position when opened, acting more akin to a slip joint, it's not the end of the world though, you just have to use the tools within their limitations and be aware they are free to close on the fingers of the foolish or unwary.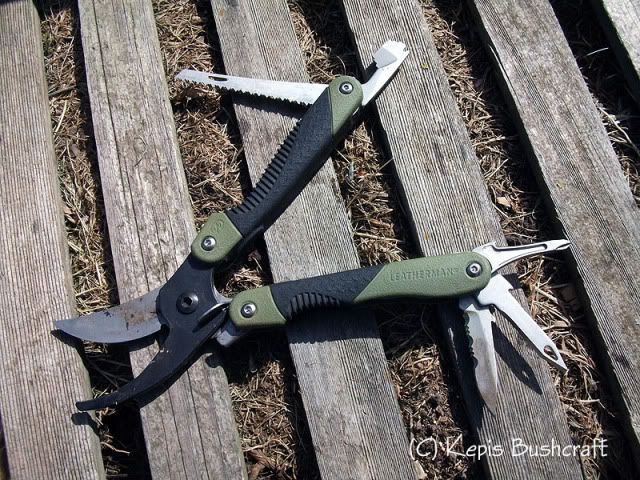 Of course being a Leatherman, the build quality is bomb proof, it all folds away in typical multi tool fashion into the handles, which incidentally are rubberised to give a good grip when being used with wet or bloody hands, they are also pretty comfortable as well if the truth be known.
I don't know why more people don't use these tools, it doesn't have to be a Leatherman as pictured, any old pair will do and you can secateurs at some of the well known DIY shops for just a few quid, personally i think they are worthy addition to a bimble bag or day sack and as i mentioned above are not perceived to be offensive to the sheeple, after all many of them will have a pair in their own garden anyway.