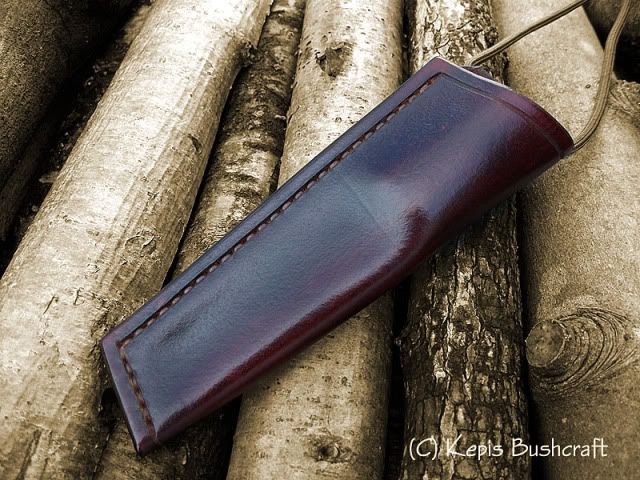 Having made a dedicated neck sheath for Mike at MaB Knives yesterday for his Mini Bushcrafter knife, i decided that i wanted to redesign the sheath as i don't particularly like making the previous style of sheath, I'll make them, but i don't like them, this is what i came up with.
It's a fairly modern angular design that seems to suit the knife well, the sheath itself is made as a dedicated neck sheath with quite a wide rear loop on the rear of the sheath to help alleviate the sheath twisting on the suspension cord as some neck sheath designs tend to do.
The sheath is made from 3mm veg tan leather, stitched with waxed linen thread and the entire thing is hand dyed and finished, I'm thinking about upping the dimensions of the design and making a larger version to suit regular sized Bushcraft knives, ie the Woodlore sized and style of knife.
The sheath pictured above will be retained by myself, as i always like to keep the prototype of each new sheath design for checking the suitability of the sheath design against different styles and sizes of blades in the future.
More info on Mike's knives can be found on
his website.