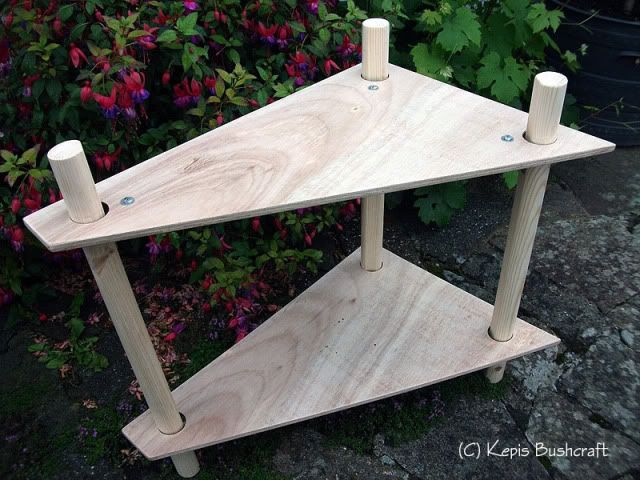 Made myself a display table for use at shows and events today, it's only going to be used for displaying a few odds and sods, like spoons, painted spatulas, etc and/or things that are used in bushcraft, like bow drill sets, birch bark baskets etc, you know the type of thing, anything to get the public engaged basically and hopefully spending a few pennies as well.
I wanted a small table that would fold flat, but rather than buy one i made this one from scraps, the table tops are offcuts of 9mm marine ply left over from a boat build we did, the legs are a piece of pine banister railing, the lower shelf is held in place by gravity alone and rests on three 8mm dowels, the table top is held in place with three M6 flat head bolts that go through a small bracket that is screwed to the leg, the bolts are tightened with a wing nut, the shape of the table was determined purely by the shape of the off cuts from the boat build, i quite like the shape, it's a bit different to the normal square or rectangle you see at shows.


I was originally wanting not to use any metal ware at all and just use friction and gravity to hold it all together, but it was not to be, as it just wasn't stable enough, so i elected to use the bolts and a couple of brackets, even so the entire unit breaks down in under two minutes and lays flat for easy transportation and storage, why the three legged table?, well quite simply, it's easier on uneven ground to get a three legged stool or table level or at least stable than it is a four legged version.
All i have to do now is to finish the sanding down and give it a couple coats of varnish to seal and protect the wood, not a bad little project, considering the materials used were at one time destined for the bonfire.