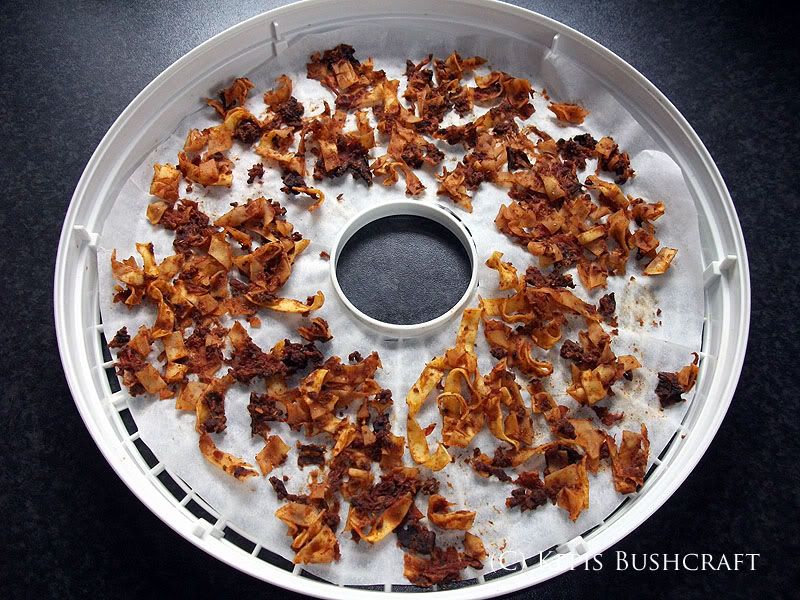 Whenever we have an excess of food that we have made for dinner, particularly rice and pasta dishes, rather than bin it as many people do, we save it and pop it in the dehydrator, that way we end up with a nice meal for either lunch or dinner, depending on the amount that was left over, best bit is, unlike some of the commercially available meals, you know exactly what's in these, and they weigh absolutely nothing.
The picture shows the dehydrated "remains" of Tagliatelle, with Tomato & Herb sauce, peppers, rough chopped tomato's and onion (all home made/grown apart from the pasta & onion), what was a good desert bowl sized amount, now fits into a 3x5" zip lock with loads of space to spare, all i have to do is add some hot water to it when I'm out and about and i have a nice home made and healthy meal.
We don't just use the dehydrator for left overs, we have also used it a lot recently to preserve peppers, runner beans, fruits etc form the garden, I've also built a stock of home made "ready meals" ready to take with us when we go out and about and with the price of food and everything else for that matter going sky high, it just makes so much more sense to preserve and store whatever you can to make those pennies go a little bit further.