Eldest lad decided it was about time we went fishing, so off we went, me, the two boys, nan & grandad and two car loads of fishing equipment, we went to the lakes that i built and where I'm the Fishery Manager amongst other things.
It was a glorious day up there, we fished the middle lake of the six that are on the site and there were lots of good sized carp to be seen cruising around on the surface, but sadly none taking a bait, these damned things know what bait has a hook in them and what one doesn't, still as it is for people, no good getting old without getting crafty at the same time.
Despite the fish not really playing ball, we did manage to catch a few, i think we would have done much better if we had had a couple of pints of maggots between us or at the very least some bread, punch, at least that way we would have caught masses of small silvers, as it was we were using sweetcorn, spam or soft pellet on the hook, but, despite the lack of fish in the quantity we are accustomed to, we still had a great time, the thing with these lakes is the the wildlife, so even when the fishing is not as good as it should be, there is always something to watch, like today with Willow Warblers, Buzzards, Sparrow Hawks and masses of Finches feeding on the thistle seeds.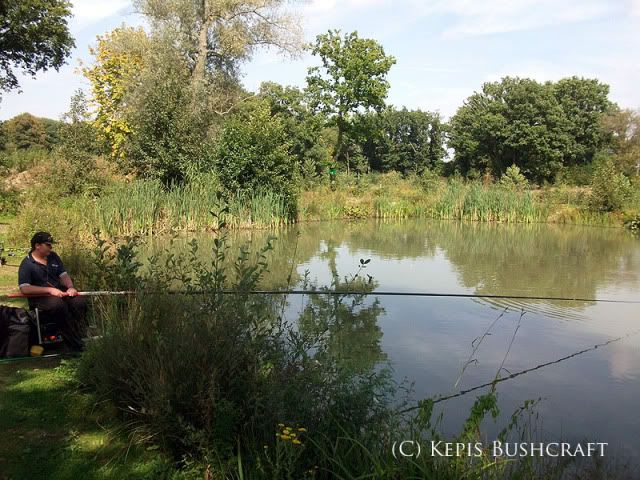 Eldest Fishing at 11 Metres on his Pole