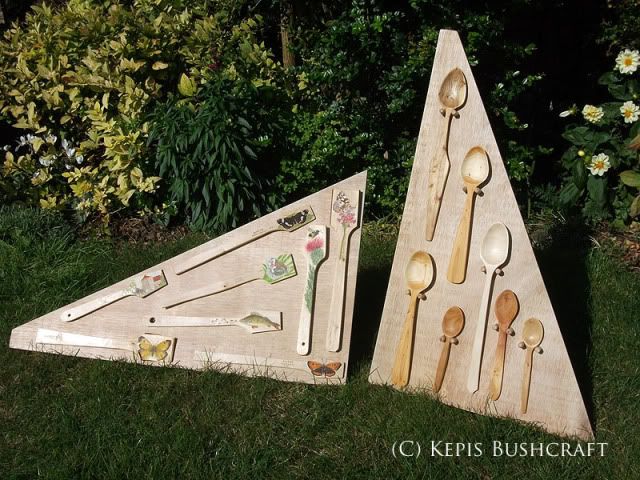 I'm exhibiting at a couple of local shows in the coming weeks and will be demonstrating a few skills as well as showing a few things that i make, in the past i have just laid things on a table, which is fine until things start to get moved around and mixed up, so this afternoon i made myself two display boards, one for spoons and one for spatulas, as you will notice the boards are angular, the reasoning behind this is most display boards you see are rectangular, so i wanted something different.
The boards can either be free standing as pictured or suspended on a wall/from a ceiling, and rather than take mega loads of spoons and spatulas to shows, particularly those where you are just demonstrating things rather than selling goods, i can just take a cross section of products instead, but still have a nice neat display set up, that retains it's "woodsy" feel.
The boards have a small hinge screwed to the reverse, to which i have attached a leg made from a piece of Hazel, the spoons are suspended by their necks on 8mm pegs, whereas the spatulas, being decorated are simply held on the board in the correct orientation to the painting, with some sticky pads/rolled over tape, if needs dictate i could secure them on the board more permanently with a loop of wire that goes over them and is then secured on the reverse of the board.