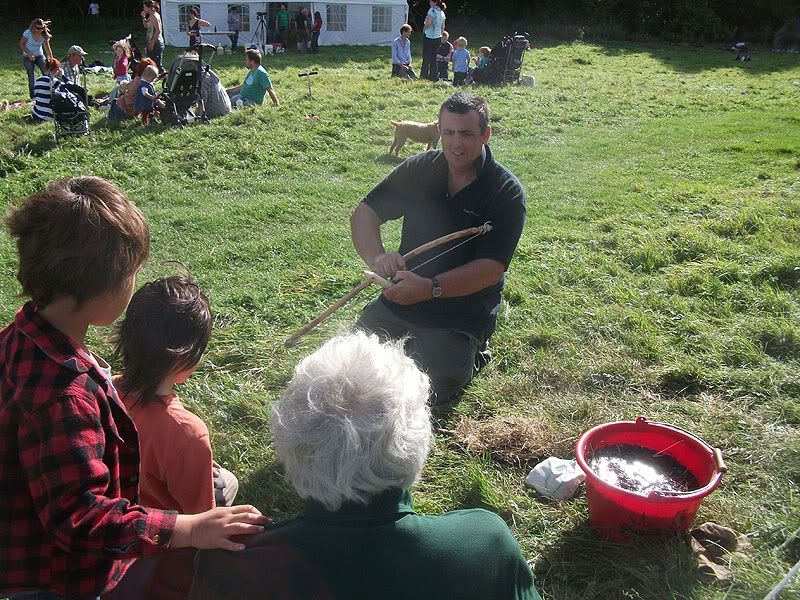 I attended an event yesterday that is held on an annual basis by one of the local estates, this is the second year I've been invited and despite, the weather it was a superb day out, i spent a lot of the time there speaking to people about woods skills, showing off some of my wares like spoons and painted spatulas, but the biggest thing was friction fire lighting (always a crowd pleaser), but spending a day on the bow drill is hard work, but great fun nevertheless, i failed to produce an ember a couple of times and even when i did produce an ember it wasn't guaranteed to go to flame as the tinder i had, was ever so slightly damp, but this just made it more of a challenge, in the end we had to resort to adding some crumbled cramp ball fungus to the tinder to act an an ember extender in order to give us a fighting chance.
A couple of people had a go at the bow drill and soon realised it wasn't as easy as it looks, but i will give them their due, they didn't give up, even though they didn't produce an ember, i still gave them a bow drill set to take away with them, a few others tried lighting fires with the flint and steel and again, soon realised it wasn't as easy as it looked, but they tried and were willing to learn a new skill and that to mind is all that mattered.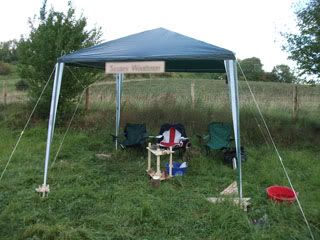 This event is always great fun, a chance to meet with old friends and make some new ones, because of the grotty weather forecast the visitor numbers were down on last year, although despite this, there were still a good number of people around, the Estate do a superb job at organising this event which this year also saw a Cider press in operation, Corn dollies being made, nature walks, wild food walks and fun and games for the kids such as parachute games.

I only managed to take four photographs, all of these were of our set up (see above picture), luckily i had the two boys with me and eldest took a few more pictures than i did, so i will endeavour to get some of those published on this 'ere blog shortly.