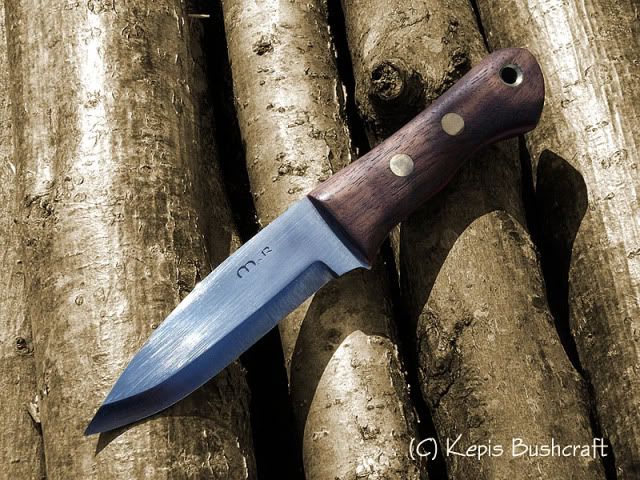 Ive been in possession of this knife from Mike Bowler of MaB Custom Knives for a good time now, and i thought it was time i put a few words down about it.
Ok, so the knife itself is made from 3mm O1 tool steel and is 5 1/2 inches in length, with an equal split being given to the blade and handle, the particular example i have has Walnut scales with red liners and 6mm brass pins and lanyard tube, the blade has a Woodlore"esque" shape with a scandi grind.
You will probably notice from the picture that the transition from handle to blade on the top of the knife features a fairly pronounced incline, in use this additional material fills the hand nicely and provides a nice thickness for additional grip, the handle itself has been formed by Mike into a "coke bottle" shape and even on a small knife such as this one, this shape does feel very comfortable in the hand.
So what did i use the knife for, well on a lot, if not all of my woods trips, since the day i received it, this blade has been a constant companion and can been seen in many of my recent You Tube videos in it's custom sheath hanging from my neck, to date, i have used this blade, to carve spoons, pot hangers, netting needles etc, it's been used to prep game such as Pigeon & Bunnies, although for this use it really does need a Micarta handle to avoid blood being trapped in the wood fibres of the scales, although if you are careful this is not an issue and not one i have faced, to be fair, if you intended to use this knife predominantly for small game prie, then you would order it with handle materials that would not absorb blood etc in the first place,.
The knife has also been used in the preparation of friction fire sets, it's even been used to prep food in the kitchen at home and bar one or two tiny issues it has performed above and beyond it's weight and indeed size.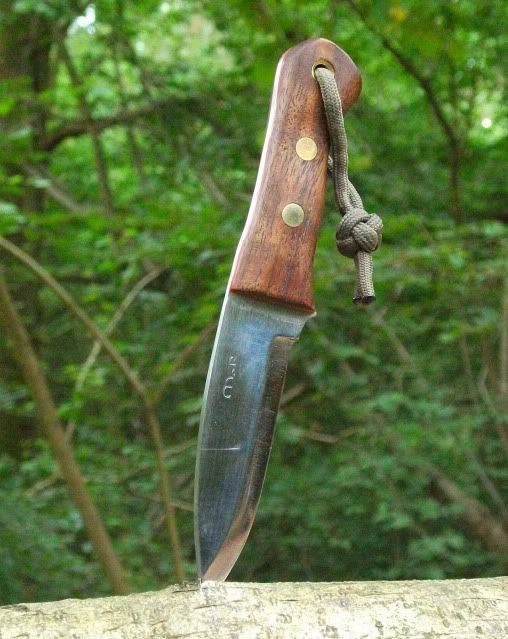 So what issues did i face when using this knife, well to be honest, i think the word "issue" is too strong, they were silly things, for instance the pointed section on the finger guard at the junction between handle and blade on the lower section of the knife was fairly sharp and did dig in somewhat when the knife was gripped, two minutes with a fine file sported that out, the other issue i had was when i was prepping a hearth board for a friction fire set and the very tip of the blade snapped off, but only because it was ground too fine, i told Mike about this at the time and he welcomed the feedback, always the sign of a good maker is one who will listen to constructive criticism, all i had to do was to re profile the very tip of the blade with my DC4, which took minutes and I've not had a problem since.
Apart from the above I've had no "issues" with this blade at all, it's been used daily and it's been used hard, it's been used in the dry and it's been used in the wet, it not been molly coddled at the end of each day, just put in it's sheath and put on the shelf ready for the next day. It has kept is cutting edge well, only requiring a quick strop to bring it back to shaving sharp again, the handle ergonomics are superb and the knife is well balanced in the hand, although as a personal thing i did add a short lanyard to effectively increase the handle length, but i have big hands anyway.
Now i must point out here, that i have an agreement with Mike to supply custom sheaths for his knives, but please understand, this has not and will not bias my opinion, believe me, if this knife was junk, i would say so and Mike knows this, but this knife quite simply is not junk, it's a superb tool from an upcoming UK maker, so if you are in the market for a small fixed blade EDC or neck knife, or indeed a full size user, then you could do worse than speak to Mike, best do it quick before he puts his prices up though, as i can see him building on his already good reputation.