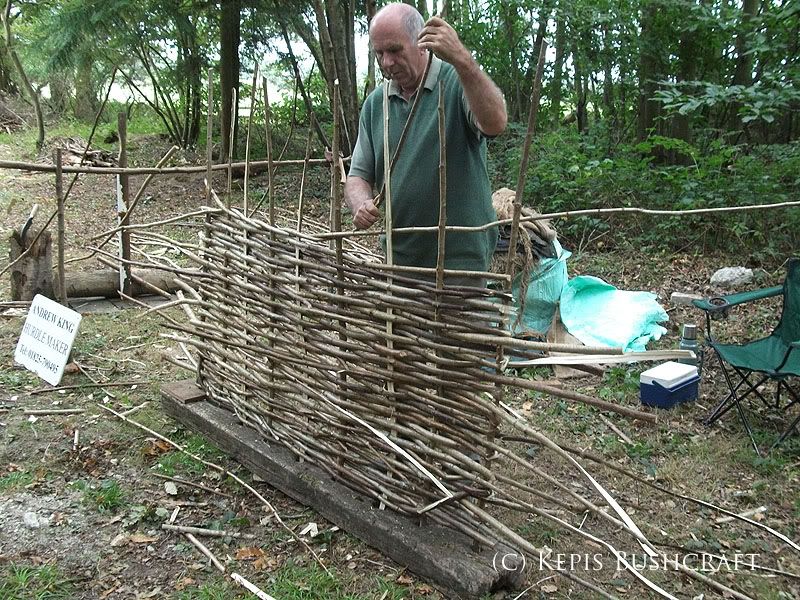 Took the boys to the Woodfair at Bentley, near Ringmer in East Sussex yesterday, had a great day despite the rain, met some old friends and made some new ones.
The Woodfair is held annually and is a great show, although i did sense yesterday that there were not as many exhibitors as in previous years, the programme for the event stated there were more, perhaps there were more exhibitors for the areas that don't hold a lot of interest for me, as there certainly seemed to be less in the coppice & crafts section than before, maybe they were just more spread out than in previous years, i don't know, like i said, maybe it's just my perception, regardless, it was a great day out and it offers the chance to speak to people like the chap pictured (Andrew King), who like myself practices these skills on a day to day basis for a living, albeit in vastly differing areas of expertise.
In addition to the traditional skills such as Hurdle making and Besom brooms there is a lot of significantly more modern equipment on display, including mobile saw mills, stump grinders, hydraulic log splitters and well anything to do with Forestry basically, one of my favourite parts of the show though are the second hand tools, at last years show, i did well and bagged myself a bargain, this year it wasn't to be, although i was on the look out for a few things, the things i did find, didn't really float my boat, not a problem though, as just up the road from us is a huge second hand tool shop, at least in there it's warm and dry so you can check the fit of an axe head knowing it's not tight just because it's damp, as they all were yesterday, we did bag one bargain though, eldest wanted a Sloyd knife, so we picked him up a Mora 120 for around a tenner, funny thing was, the stand next door was also selling them, but for nearly £17.00, certainly pays to look around at these places.