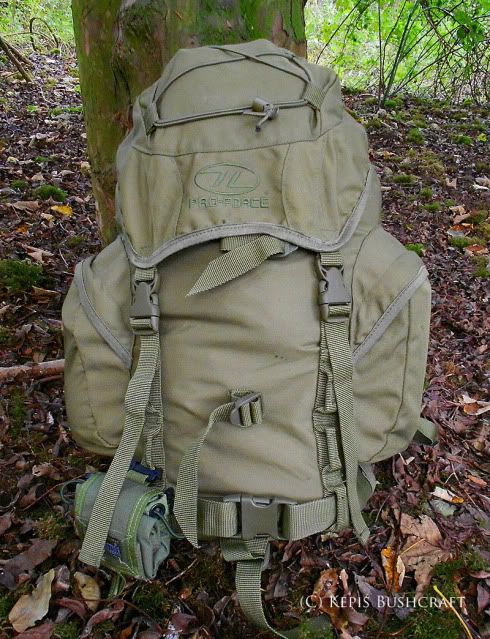 I'm often asked what pack i choose to use for my day pack, well to be honest, it all depends on what I'm doing, if I'm just going for a quick bimble, i take a small shoulder bag, but if I'm doing a full day out, either up the woods or going on a longer walk, i take a Highlander Forces rucksack, until recently i used a Forces 25, but i have now 'given' this to youngest to use as his old pack, well, basically it fell apart, so now I'm using a Forces 33 and to be fair the 33 is much better suited to my back than the 25 was, just because it's 33 litres in size, doesn't mean you have to use all of the space does it.
I was lucky when i got this pack as i found it on Ebay and paid £15.00 for it, way under the usual retail price and when it turned up you could see the thing was nearly new and it still had the rain cover in it as well, although it's a mid sized pack, I'm religious on not filling it with junk and/or items that are subject to requirements on whatever trip I'm doing, yesterday for instance we went on a 12Km walk and as rain was forecast the pack contained, my Swedish Army Cooker, Crusader Cup and tea making stuff, two 58 Pattern water bottles, a 1st aid kit and my poncho, all of this fits into the pack with masses of space to spare.
Having used this pack for some time, I've had no problems with it at all, it's comfortable to wear, well made and strong, it's been dropped, overfilled, sat on, thrown down scree slopes, kicked, i have even used it to bring a load of timber back from the woods and it laughs it off, would i get another, you bet, OK, it's not built to the same standard as my Sabres, but there again it also doesn't have the price tag of a Sabre either, for the money, i really don't think these packs can be bettered.