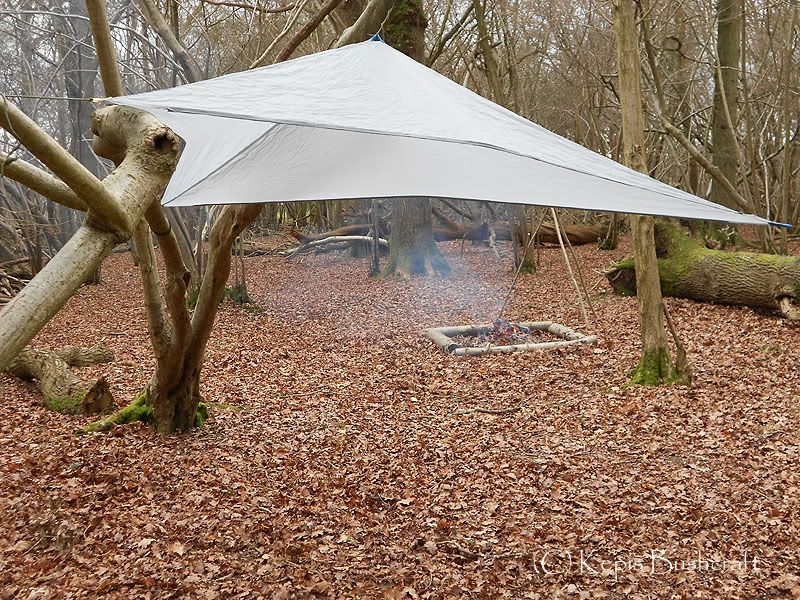 I eventually got round to trying out a 'Pocket Tarp' today, a little while ago i was gifted a piece of Ripstop nylon that had been part of an old tent, the piece of ripstop is triangular in section and i thought it might be rather useful as a pocket sized tarp / mini shelter sheet.
The Ripstop still has the zips from the tent attached to it and I've left these in situ as edge reinforcement strips, all i have done to make this small tarp is to simply sew a loop onto each corner and one in the middle, this allows the tarp to be suspended from a central point and then each corner is tied out to give a small roof, i need to add a small tie out loop in the middle of each bottom edge to give further tie out options.
OK, I'm not going to be camping out under this, but it packs down to the size of an orange with all the lines attached and it will provide me with an option to get out of the wind, sun and rain, should i need to, or just as a small shelter sheet when I'm out and about and operating from a fixed day camp, OK it's not 100% water proof, but it will keep the worst off of me should i get caught out.
I'm going to use this for a few months to see how it works out and then make design changes as necessary, then if i think it's viable, i might make a few to give to friends and family and/or sell on if there is enough demand.