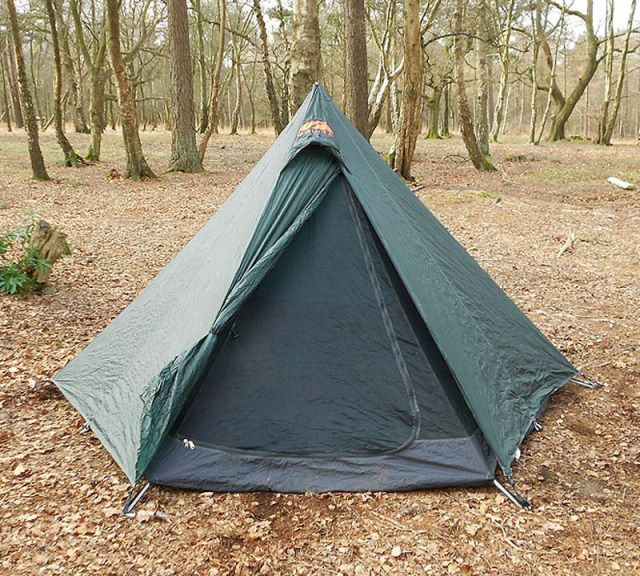 My main "go to" tent that i use for camping out in the woods is a Go-Lite Hex 3, sadly discontinued now and replaced by the Shangrila 3.
Ive had this mini tepee for a number of years now and have used it in good weather and foul and have never had a problem with it, it packs down small and sets up in minutes, on one occasion when i was staying out for a few days in the woods with a couple of mates, one commented that he saw me walk up to pitch and when he turned round again a tepee had grown, it really is that quick, i think the fastest I've set this up in, is about five minutes.
The Hex is pure luxury for one person, comfortable for two but a bit of a squeeze for three, especially if you have gear as well, what i do like about the Hex is you don't even have to use the central pole to erect the tent, the top of the fly and indeed the nest (floor & bug net section) is a loop that allows you to tension the top of the tent over a tree branch or a rope suspended between two trees, doing this gives you a huge amount of extra space inside the tent as you don't have to work round a central pole, other set up options include just using the outer fly, or if it's nice and warm and not due to rain, just use the inner section, so you can lay there in your sleeping bag and look at the stars.
There are only two drawbacks to the Hex, one is the price, it's hellishly expensive, but i think it's worth it for the sheer speed of set up, small pack size and light weight, the other drawback I've found is, your breath does tend to condense on the outer fly, especially when using it in the cooler months, but if you leave the door open it soon evaporates during the day, the other way to dry it off is to take the fly off turn it over and put it back over the inner section so it dries off, doesn't take long and when it's dry, turn it the right way up and put it back, takes seconds to do.
The one thing id like to get for the Hex, is what they call the "Tub", which is basically just the grey floor section you can see in the photo's, this would negate having to take the mossie net for winter trips, which you don't need, OK i could just set up the outer fly and use that and then sleep straight on the ground, but the tub would be a better for those times when the ground is wet and muddy and you need that extra "moisture" barrier.