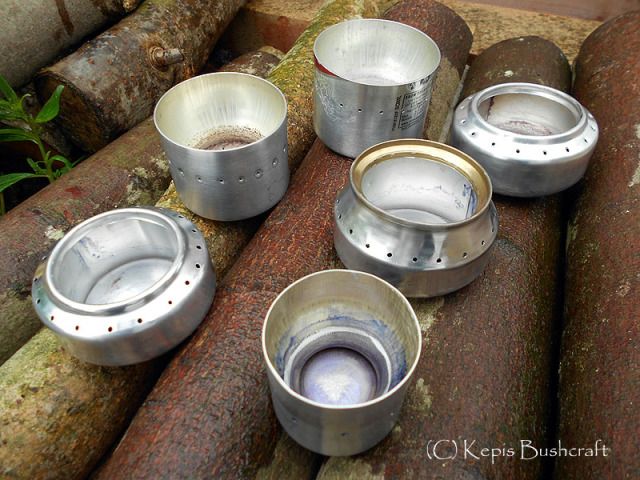 Ive been on a real Alcohol Stove making trip recently, partly i think as I'm trying to get the ideal (for me) lightweight cooking kit for when I'm just out for a walk round and don't necessarily want to take a Crusader Kit or small gas burner with me, but also because I've been watching Shug Emery on You Tube and his "Breakfast From The Hammock" ethos, really appeals.
So with this in mind, I've been making stoves and burners, tyring to find the one that works the best for me, pictured are just six of the ones I've made recently, three are made from aluminium bottles and the other three from pop cans, from the six pictured, four are side burners, so i don't have to worry about a pot stand, the other two (bottom left & top right) need a pot stand and I'm leaning towards this style over the side burners for one very good reason, i feel it is more stable, handy when you could be on uneven ground and are trying to make a brew from the comfort of a hammock.
All of the burners/stoves fit in the
lightweight brew kit
i made up a little while ago, so now, it's just a matter of getting out and about and trying the different styles of stove with the kit, to see which one i get on with the best, im not into getting a pint of water to boiling point in 3 minutes, im out there to enjoy myself and as long as the water boils and i get a fresh brew, then, that's plenty good enough for me.