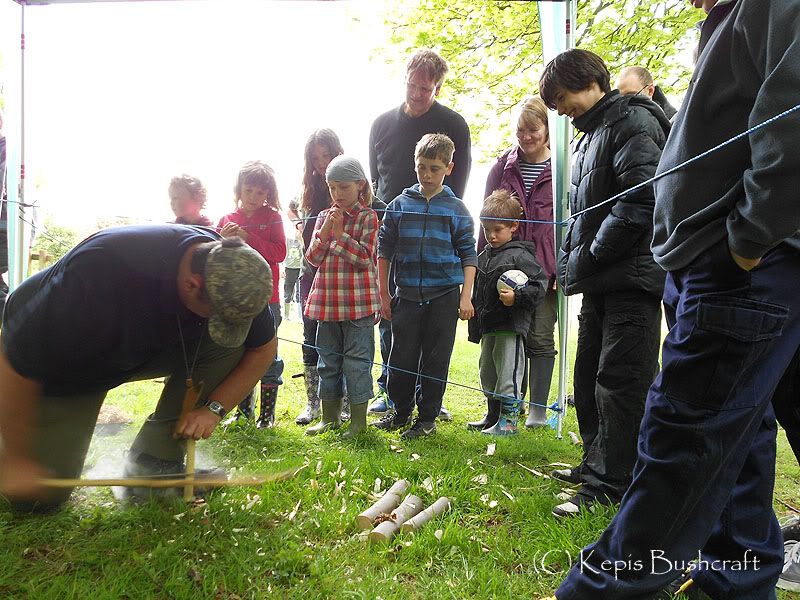 I enjoyed a great day up on the South Downs today supporting a Family day that had been organised by one of the local Conservation Groups i support, they had asked me ages ago if i could demo a few Bushcraft skills during the day and i was only to happy to help out.
The day started off wet and rainy with a NE wind and things didn't look good at all for a while, but shortly after we got to the spot, the clouds lifted and the wind seemed to decrease, but that may have also had a lot to do with the fact that we were also in the lee of some Hornbeam & Beach trees.
So out with the Gazebo, rope off all around it as a safety cordon as i was using sharps, Elm axe block all set up for some spoon carving and a big bucket of water and my folding fire bowl ready to go for later in the day when i was doing some Bow Drill demo's.
Normally i can get a sustainable ember first hit with the Bow drill, but today the dampness of the woods and air after the rain that in reality had not long stopped, made it a little more difficult than normal and the first two attempts, although they did produce embers, were not strong enough to coalesce and grow, but hey, it would be boring if it were easy every time, so i produced some Cramp Ball fungus that i used as an ember extender and this did the trick, but you still had to make that strong ember in the first place in order to get it to ignite the extender, but once it was away, the smoke started to billow and in quick time, we had flame. A great day out with some quality people who love the countryside, know and understand how it works, and who want to keep it and maintain it for all to enjoy.