I was asked by my old mucker Rockmonkey to make a mask for his Kentish pattern hand axe, i had some design criteria, but in the main i had free range to design a mask that would suit the axe, the two criteria i had, were 1) it has to be dark brown, 2) he wanted rivets rather than stitching.
The design i came up with is as pictured, as the axe is symmetrical, i needed a way to secure the mask when the axe was not in use, i looked at a retaining strap as you would find on a Gransfors mask, but it just looked daft in all honesty, so i went for a double popper mask, this way it is secured to the symmetrical axe head, top and bottom, and it has the added security of a double popper, so should one come undone in transit, the mask is still secure and the cutting edge is out of harms way.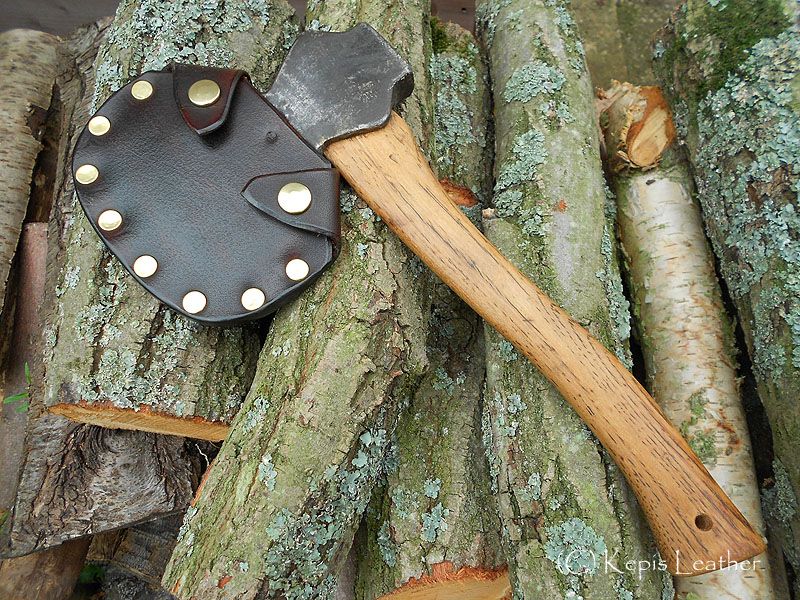 The mask itself has been made using 3mm veg tan leather than has been dyed dark brown, so it matched RM's knife sheath that i made him a little while ago, the hardware used is brassed double headed rivets and brassed poppers which contrast with the rich colour of the leather.
I need to perform a few finishing touches to the mask, ie neaten up the welt edge and make sure everything is properly seated and secure, then give it a good coat of polish, before taking it round to RM.