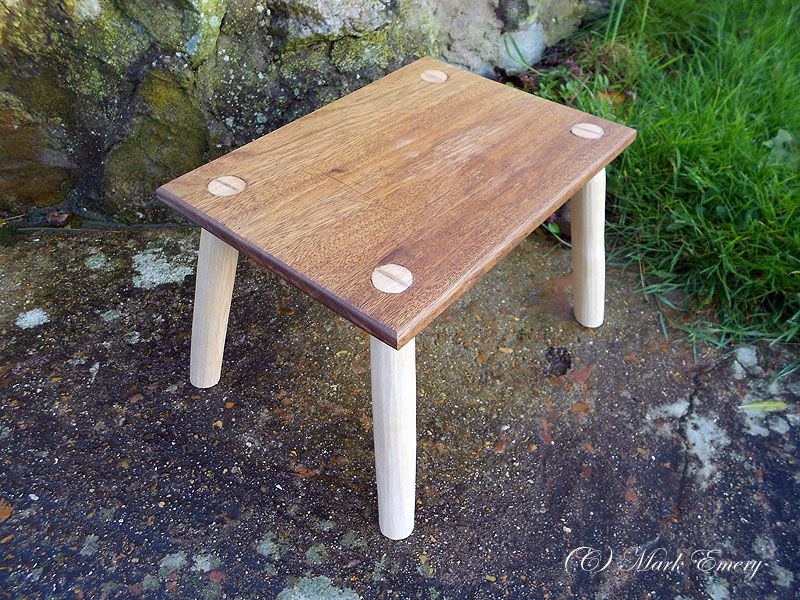 Made myself this small table to go on my stand at the various shows and events i do, not only as a demo of the type of thing i make, but also to use as a display unit, as i can put things on it to raise them up above the usual table level where, hopefully, they will become more noticeable.
The table itself is made from Ash & Walnut, the Ash i collected from a fallen tree a couple of weeks back, i cleaved the Ash down into suitable sized pieces and then shaped them on the shave horse, before setting them to one side and allowing them to dry and shrink. So how do i know they are dry?, simple, i weigh them on a daily basis and plot the weight on a graph, when the graph flat lines, i think it is fair to assume the wood is dry.
The table top is a piece of Walnut that we have had laying around for years, when i first picked it up from the back of the shed this weekend, it was white with years of dust, it certainly gave no indication of the beauty that laid beneath all the grot and grime. After a quick clean up the wood started to show it's colour, so i plotted out the leg positions and angles and then got to work with a brace and auger, the legs were then shaved down to a suitable diameter to allow them to fit in the leg holes and wedged in place with a piece of Elm to give a contrast with the white wood.
Once everything had set and settled, the table legs were trimmed flush and the table top sanded down to a nice smooth finish, then given a couple of coats of Danish Oil to bring out the colour of the wood.