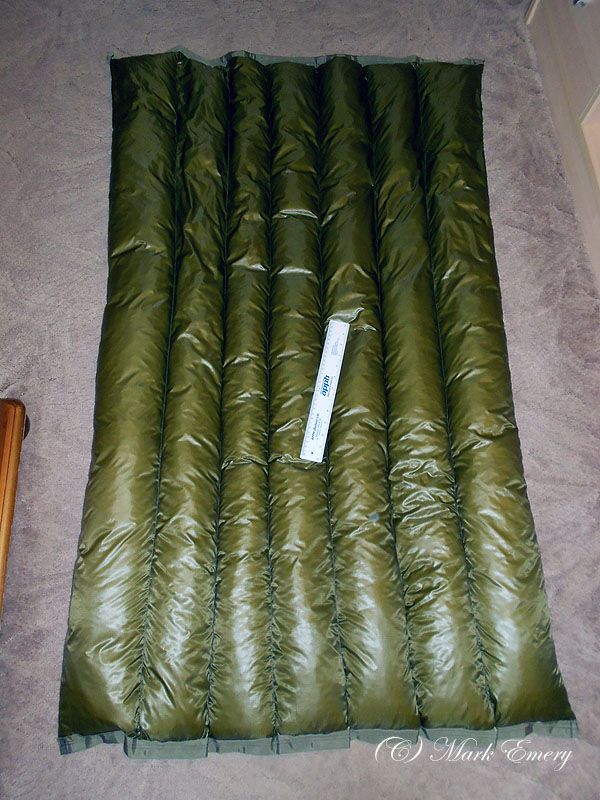 Today dawned with a mass of snow being dumped on the south of England, but thankfully the postman managed to make all of his deliveries prior to the worst of the weather setting in and delivered a package containing 5m of rip stop nylon, so at least i knew what i was doing today, it's not what i had planned, but the weather put paid to that and rather than mope around, it was time to make my long awaited under-quilt.
The quilt is 45 inches wide and 60 inches long and is filled with duck down from an old duvet that i have been hanging on to for just this purpose, so armed with a fresh supply of ripstop, some tape to make the channels on the ends and a good supply of tea & coffee, i set to and got the thing made.
The funniest bit was filling the channels i had sewn in to the quilt with the duck down, just a word of advice peeps, don't do this job in the dining room where there is a deep pile carpet, i had piles of feathers everywhere and a covering of down lay on almost every surface, including me, still it was nothing the hoover couldn't deal with, the quilt ended up with a loft of approx three inches.
Since i took the picture above, i have added the suspension tapes to each corner, but i still have to add a few loops on each side to take a cord, should i wish to use the quilt as a free sliding version, rather than the fixed position im going to try first.
It was great fun making it, and i suppose from start to finish, including a lunch break it took seven hours to make, i know one thing though, i shouldn't be cold at all with this underneath my hammock.