On the 6 June 2011, i dehydrated the left overs from one of our family meals, it was nothing too special, just Rice with a nice tomato sauce and some vegetables in it, the dehydrated meal was then bagged up in a bog standard ziplock type bag and put into a cool dry cupboard, and that's where it has sat for the last 20 months.
So today, i thought i would rehydrate the meal and see how it turned out, first off i opened the bag and took a deep sniff of the aroma, good start, it just smelt good, no musty smell or indeed anything else that would suggest it had gone rancid, next step, I take a good look at it all to see if there were any signs that would indicate a problem, nothing - perfect, of course being dried and then kept dry in the dark and cool, there's not really much that can go wrong, unless of course it had gotten damp, in which case it would have very soon gone off and i would have noticed that during the periodic checks i make in the food store.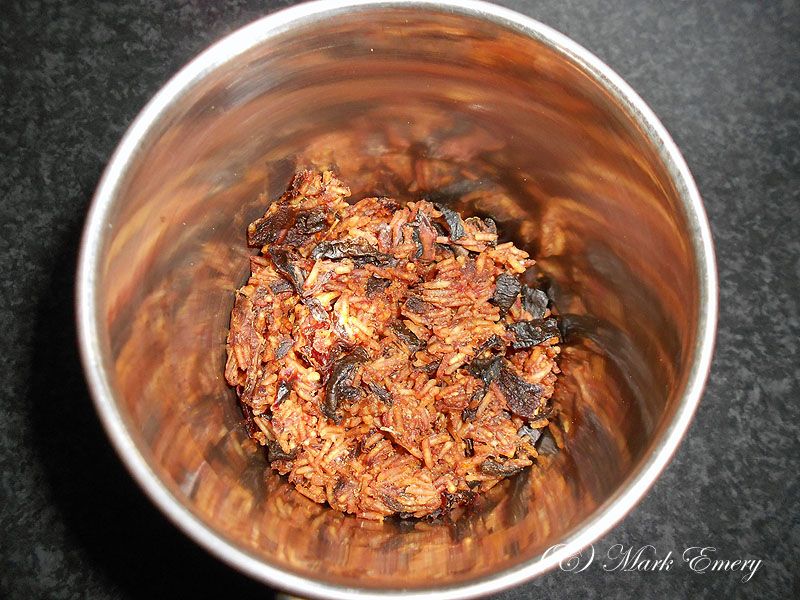 The next step of course was to empty the contents into a suitable contained and rehydrate the meal, so i poured the contents into a metal cup, added enough water to cover the food by about half an inch and then i put it on to heat up and rehydrate, i did this on the small simmer burner on the cooker, obviously, i cant take that with me when im out and about and the meal would have been reconstituted in a metal cup or small billy over a meths or gas burner or if in a fixed camp, probably over a fire.
A short while later the pot was bubbling nicely and a glorious smell started to fill the kitchen, i decided i would keep the meal simmering on a low flame until such time that all of the water had been absorbed, thinking that if the original amount i had put in wasn't enough, i could always add more, for a change i got it right and no further water was needed, at this point it all seemed to be done, so i removed it from the heat, grabbed a small spoon had a taste, im pleased to report hat it tasted just fine and the flavour was spot on, although a couple of drops of Tabasco wouldn't have gone amiss, in all i think it took about 10-15 minutes from start to finish to bring this meal back to life.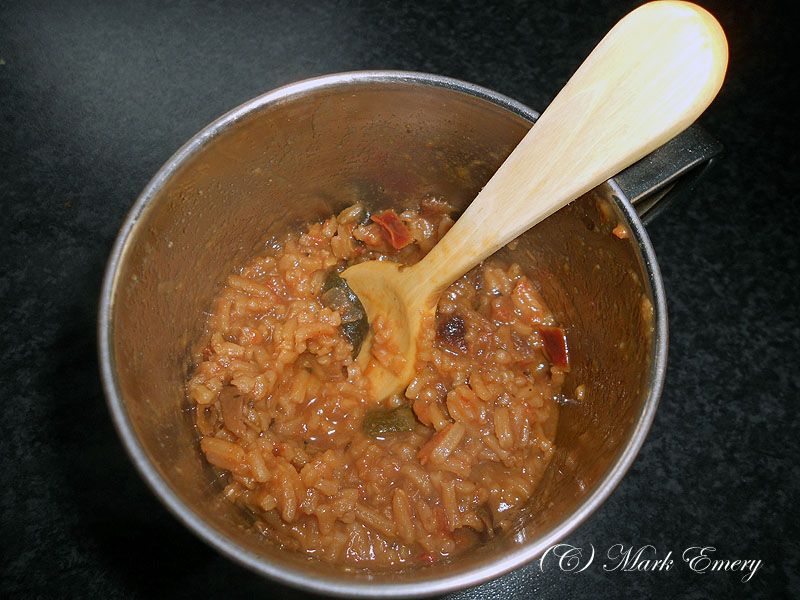 The next step is to grab another bag of this and reconstitute it outdoors, which ive done before using my gas stove and a frying pan at a fixed camp, which is where i usually have this type meal rather than relying on over priced commercial examples which are also normally full of salt.
I think I'll use next weeks bimble as the testing ground for rehydrating one of these meals in a metal cup over a meths cooker out in the woods, even better if it's cold, because if i can do it in the cold and wet, then the rest of the year when it's a bit warmer will be a doddle, sure it's going to take longer to do outdoors than it did in the kitchen, but who cares, at least i know, as i have always done, that by doing my own meals, the ingredients are all good and i control how much salt etc goes in, not someone sitting in an office building, who think they know what is good for me.