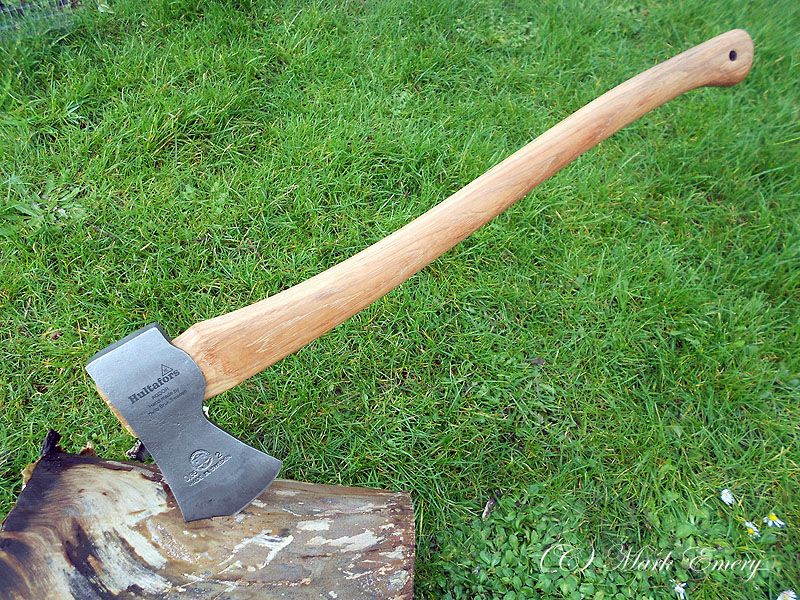 The latest addition to my stable of axes, a Hultafors Chopping Axe, 26 inch helve and a head weight of just under 2lb, with a 3 1/2" face, basically, it's the Hultafors equivalent to the GBA Scandinavian Forest Axe, but at a fraction of the cost.
I bought this axe, as ive found my Gransfors Small Forest Axe to be wanting in some of the work i do, sometimes it's too big other times, too small, but i didn't want a felling axe (i already have two), what i needed was something in between, but i couldn't justify the cost, no matter how much i wanted one, of a Gransfors Scandinavian Forest Axe.

I had seen a few write ups on these and read the glowing reports on places such as Amazon from people who had purchased one of these, and at under £30.00 delivered, i figured, what the heck, so i bit the bullet and today it arrived.
First impressions, well, im impressed, the axe was razor sharp right out of the box and it only needed a little bit of fettling to remove a couple of small nicks where it had been knocked and i also gave the helve a good coat of linseed oil, speaking of the helve, the grain orientation in the hickory helve is spot on, in fact it's better than some of my Gransfors axes, the grain in this runs straight & true.
The total time spent bringing it up to par was less than ten minutes, the only real disappointment was the lack of a mask, but thankfully i had an old one that fits a treat.
Now i just have to get out there and use it anger so to speak, then after some considerable use, i will be able to better see how it performs and if the decision I made to purchase it to fill that gap between the Gransfors SFA & a small felling axe, was the right one.